2000 Suzuki Hayabusa
Modification: Goodridge Front Brake Lines

---
Kevlar Front Brakes Lines #408-3121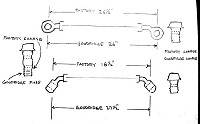 Caution: Make sure you have the correct threaded banjo nuts.
In the diagram, you will see I received the wrong double banjo nut.
Even though it was a Goodridge packaging problem,
Hayabusaparts.com sent the correct one as soon as I called.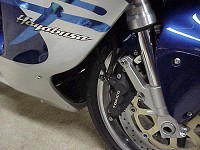 Note in the diagram the different length lines. You will double up on the master cylinder
and not on the right caliper, as in the OEM installation.

Here you can see the single line on the right caliper.

The longer line goes to the left caliper.
EXTREMELY IMPORTANT - Bleed the brakes well.
Take your time and make sure you get all the air out.
It is not a quick job, so don't get in a hurry.