2000 Suzuki Hayabusa
Specht's Store
10/24/2001

---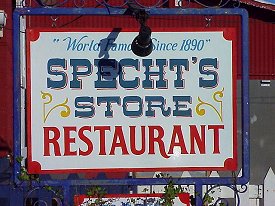 122 W. Specht Road
San Antonio, TX 78260-1205
Phone:(830)980-7121
---
The Specht's Store restaurant was established in 1898 and host
one of the premeir bike gatherings every Wednesday, just north of San Antonio.
From Loop 1604, ride north on Blanco Rd for about 7- 8 miles,
turn right onto Specht Road and follow it for about 1 mile.
It was all started in 1996 by Jason Trott, owner of The Motorcycle Shop in San Antonio.
The Specht's Store Bike Night is now one of the most consistent turnout events around SA.
Motorcycle riders start arriving and parking along the road around 5:30.
Soon, over a hundred motorcycles, of every brand and style, populate the vicinity of the restaurant.
From Ducati's to Sport bikes, just about every kind of BMW's, Suzuki's, Kawasaki's,
Honda's and even some Harley's and Buell's, frequent the place.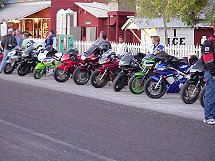 Bikes just keep arriving for hours and doesn't stop until way after dark.

On occassion, your treated to some stunt riding, power and noise exibitions by locals.