Thanksgiving Run
11/23/2001

---

---
Ok, it was really the day after Thankgiving, but it didn't have the same ring.
Once again, I hooked up with the San Antonio Chapter of the Texas Sport Bike Association for what turned out to be a FULL DAY of riding the Texas Hill Country.




The traditional Helotes starting point (Exxon Tiger Mart) at 9am.




The day started a little overcast and foggy but cleared in the first hour.




Headed by the SA Chapter president and joined by some riders from the Dallas Chapter.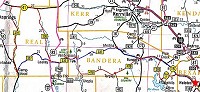 The route was chosen: Out of Helotes north on 16, left on park road 37,
right on 1283, left back onto 16, then left onto 470 through Tarpley.



Right on 187 to Vanderpool and the regular pit stop before the first leg of 337.



Then the fun begins. You name it: left, right, decreasing radius, off camber,




up hill, down hill, sharp, slow, fast and straight...



The recent rains had many rivers running high, like this one before the Leakey gas stop.




Out of Leakey north on 336, then left on 41 and left again onto 335,
where we came upon the first river road run amuck "Road Closed."


South on 335, great road, a little more water and exotic animals.


A short jaunt out 55 and the big sweepers, a stop at the Big Oak,
then back to Camp Wood and the 2nd stretch of 337.



Now headed back towards 16, 337 was just as kick ass.




Where we happened upon the next "Road Closed."




We finally ate around 3pm in a fine culinary establishment in Leaky.
Headed out 337 all the way to 16, right onto Bandera, and Helotes around 5pm
I'M TIRED !
STATS: 385 miles and 43 mpg.