55 Chevrolet
---
283 Turbo Fire Small Block
---
Here are some of the various versions of engines Bel has seen over the years.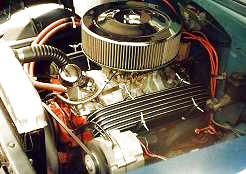 The old 265 could blow smoke rings out of the oil filler tube, so out she came and in went the 283 a few modifications. A low budget early 70's hot rod using factory Z28 parts.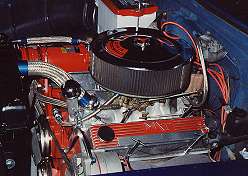 With new air conditioning and some dress up items, she started to look better and sufficed for a while.
When one of the wrist pins came loose and did a little machining work on the cylinder wall, we now had another "new & improve" updated version with a holley atop an Eldelbrock performer.
Which brings us to the latest "Ultra Turbo Fire"
Started with a 1967 truck block punched 40 over
heads ported, polished, hardened seats, teflon seals, double wound springs
Cloyes double roller timing set
Competition Cams and roller tip lifters
aluminum distributer out of a '69 Z balanced and recurved
Moroso Blue Max wires
intake is powder coated
ram horn manifolds are HPC coated
all hoses are Earl's braided stainless steel
Danchuk 4 core radiator with 6 blade stainless and 10 blade electric fans
Th350 tranny with B&M valve body