55 Chevrolet
---
1955 Belair Sedan
---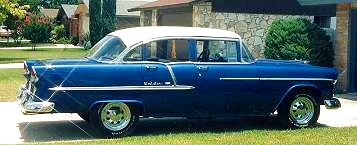 This car was purchased December 23, 1954 in McGregor Texas by my Grandfather. My father started a restoration in the '70s and worked on it a little at a time, until his death in '86. I got the car after it had sat under a tree at my Grandmother's for two years.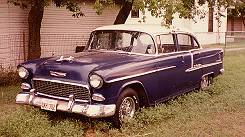 I drove her for two years and then started the restoration and mods you see here. A few things include hand lacing the wiring harness, chroming almost everthing, air conditioning from Classic Chevy International, 400 watt stereo with twin 12" JBL subs, replacing the front hubs so I could use tapered needle bearing, etc...
Here she is in the rolling dyno lab turned around for the picture.
---