My DIY Cables
I started with some Belkin hybrid speaker cable. You will notice there are multiple types of conductors:
1-flat, 1- large, 4-medium and 12-small (individually insulated). Connectors are BFA Banana .
I made a pair of "shotgun" speaker cables using Bently Harris expandable sleeve.
I ran out of the barrel banana plugs so swithced to standard banana for the common end.
On the left: Interconnects using RG-316, Bently Harris inner and outer sleeving .
On the right: RG-178 cross-connect speaker cables with iCONN interchangeable connectors.
Interconnects using twisted pair silver wire and Bently Harris sleeve.
Interconnects using RG-316 small coax and Dayton connectors.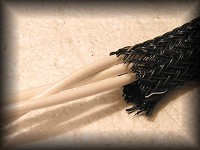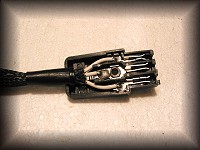 Power cord using braided silver wire.
Bently Harris expandable sleeve.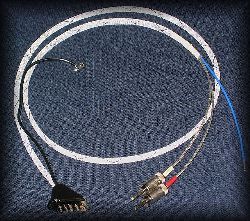 Rebuilt turntable cable using RG-316, teflon over silver and Bently Harris sleeving.