I'm using a pair of MTX Thunder T5508-44 subwoofers.
These are dual 4 ohm voice coil 8" subs.
Here are the technical specs in a PDF: T5508-44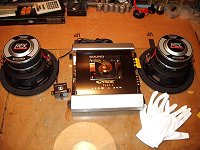 The amp is a SoundStorm F350.2 I picked up off Ebay.
350Wx2 Max/Ch @ 2 Ohms | 150Wx2 RMS @ 4 Ohms | 700Wx1 Bridged @ 4 Ohms
Low Pass XOver: Continuously Variable 40Hz ~ 150Hz
Hi Pass XOver: 200Hz | Bass Boost 0 ~ 18dB
102dB S/N Ratio | Remote Sub Level Control
20Hz - 50kHz (+/- 3dB) Frequency Response
0.01% THD@RMS | 90dB Channel Separation | 125+ Damping Factor
11"W x 2½"H x 10"L | Tri-Mode Operation | Input Level Adjustment
INSTALL
Please note this is a very labor intensive installation
I spent an entire day taking my time and checking things multiple times.
I first pulled the seats, style bar, carpet and shouldertbelt covers. The parcel shelf was next.
You can see once it's removed the area where the subs will sit. Then the first of many many fitment checks.
I marked the sub outer frame while in the car, then made a template for the cutout.
Some more triple checking fitment.
Then placed the shelf on a cardboard box for support. It made it a lot easier when I went to cut it.
Cutouts done and back for another fitment check.
Now into the car for a clearance check. Note the drivers side cutout: the gas tank is in the way.
Here the corner of the gas tank has been massaged with a ten pound sledge hammer (lightly).
Then some underside views to check clearances.
More clearance and fitment checks. Then cutout the backing, rubber and carpet.
Everything ready for bolt in. I made some foam gasket and used some stainless bolts and self lockin nuts.
All bolted together and ready for install. I had to drill clearance holes where the bolts go.
All finished with the stylebar back in place.
A couple last shots of the install done and the amp mounted in the trunk.
The amp box will have a plexiglass top with several vent holes.
You may have noticed it's sitting in the trunk well. It fit perfect there.