1993 Mazda MX-5
Interior Mods & Upgrades
---

---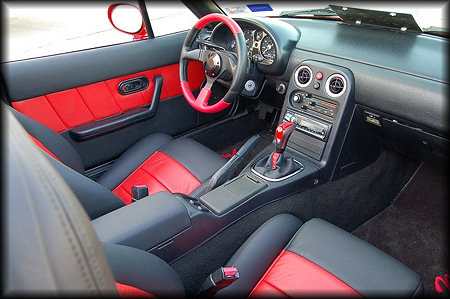 Grant Formula 1 Steering Wheel Install
First I pulled the four bolts that hold the air bag on and removed it.
Then loosened but did remove the retaining nut.
I wiggled the wheel until it popped loose and then removed the nut and wheel.
The stock Grant adaptor #4545 come with a ring I removed.
I then notched it for the wiring tab.
Next I redrilled for the clock spring tabs.
I pulled back the strain relief boot.
I used a small screw driver to push the retaining clip out.
Then used the same screw drive to push down between the top of the pin and housing.
I took a bit of moving about and patience but the pin did pull free.
I did the same with the other wires.
Now added the modified adaptor.
Slipped the wires through the cover plate and added the wheel mount.
I did file the hole to an oblong shape to mate with the hole in the cover plate.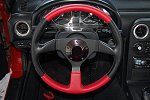 Torqued it all down, added some resistors, hooked up the horn and added the horn cap.
Took it for a test drive and all worked well.